Create Your Own Breathtaking Moments
Nestled on five acres in the beautiful Keene Valley, the Snow Goose B&B combines the magic of a woodland retreat with the convenience of nearby attractions like Lake Placid, Whiteface Mountain, Ausable Chasm, Lake Champlain ferries, and of course, miles of High Peaks trails for hiking and skiing. Whether the goal of your getaway is relaxation, inspiration, adventure or special time with a loved one, the Adirondack High Peaks region offers just what you need!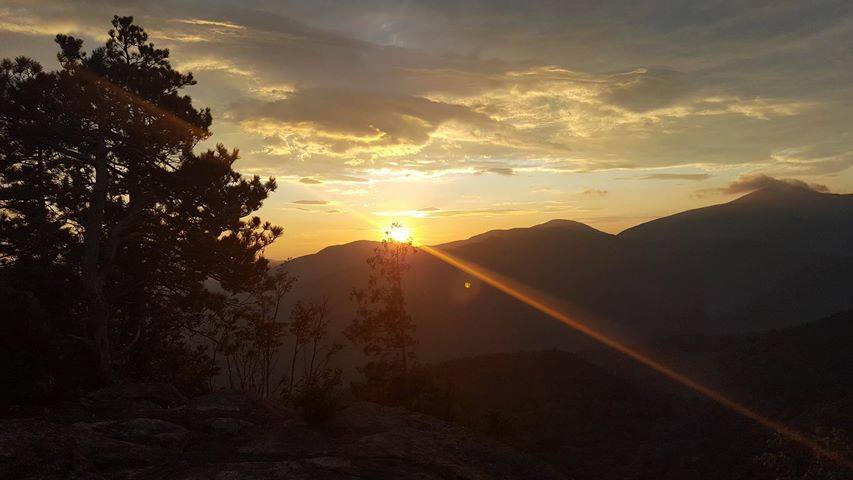 You'll be staying in the heart of Hiker's Heaven! We are the closest lodging property to the coveted Giant/Roaring Brook Falls/
Chapel Pond
parking lots. Choose a short, scenic hike or an all-day trek. In fact, you can hike Snow, Roostercomb and Hopkins mountains right from our yard!
Trail Descriptions Listed by Length (scroll down for options)
Giant Mountain – 2 minutes
Adirondack Mountain Reserve – 3 minutes
(From May 1 through Oct 31, you MUST have a parking permit to hike in the AMR)
Garden Parking Lot – 7 minutes
Cascade Mountain – 15 minutes
Mt. Marcy (from Adirondack Loj) – 25 minutes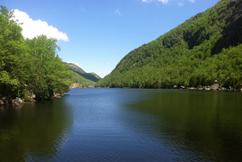 Lakes, rivers, ponds … we've got them all here in the Adirondacks. Bring your own kayak or rent one nearby. We offer a paddling guidebook for your use during your stay.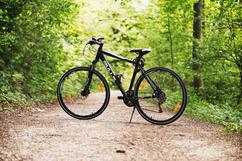 Whether you love road biking or trail biking, the stunning scenery makes it hard to keep your eyes on the road!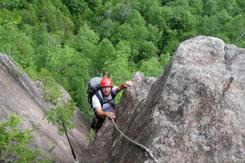 If dangling from a rock or ice face excites you, you've come to the right place. Just minutes from our inn are great climbs and guiding services.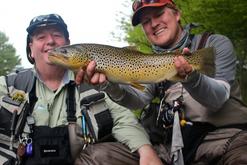 With thousands of lakes and ponds and uncounted miles of rivers, the Adirondacks are a fisherman's dream come true. Our B&B is just across the road from the Ausable River and only 15-20 minutes from world-famous fly-fishing sites and fly shops.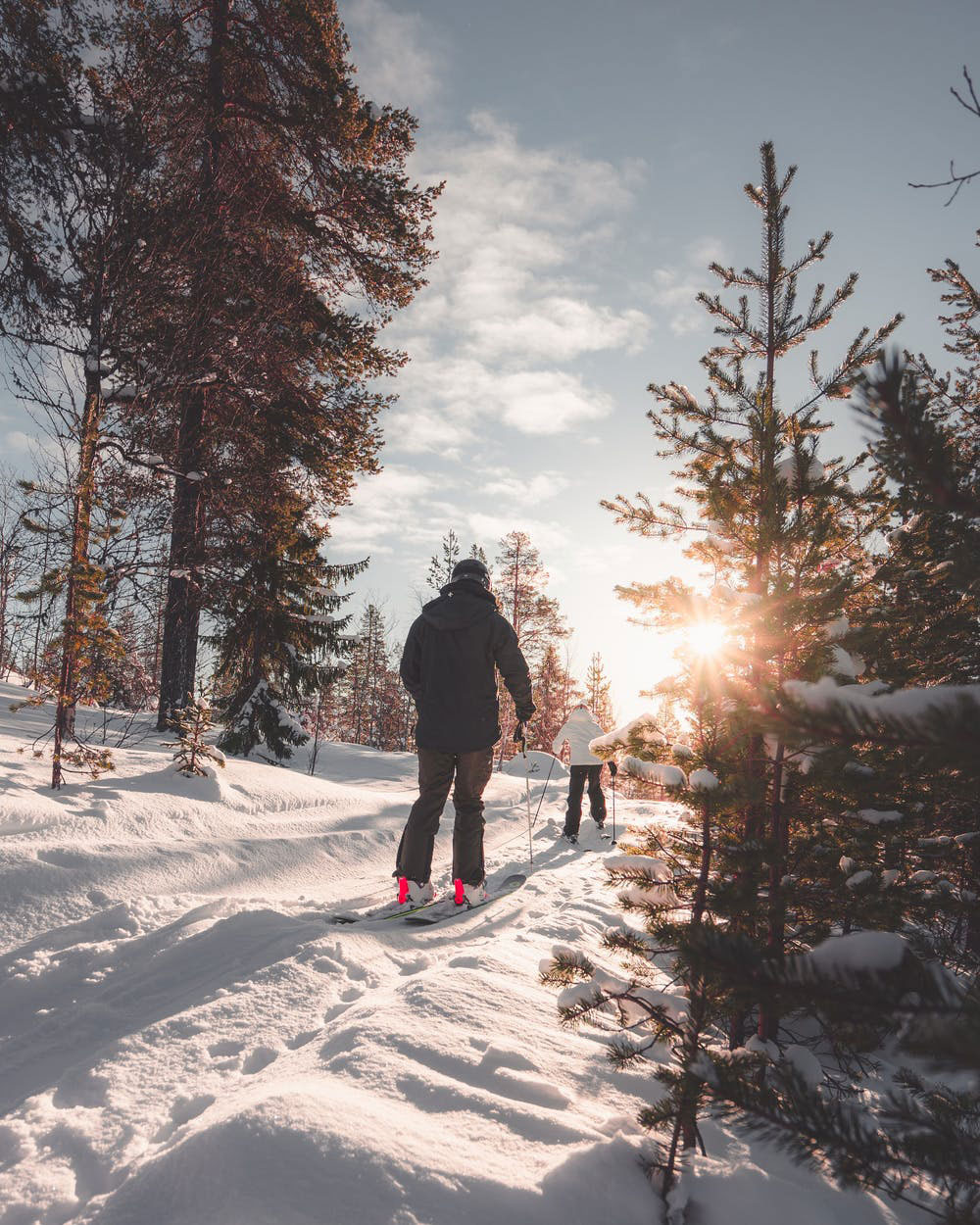 When the snow flies, our forests transform into a winter wonderland worthy of Narnia! Whether you like groomed XC trails, backcountry thrills or skiing the highest vertical drop in the East (Whiteface mountain), the Snow Goose B&B is a great base camp for your ski adventure.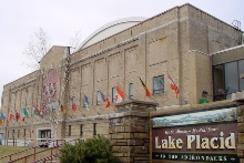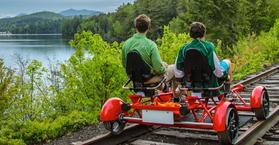 You will not be bored while visiting the High Peaks Region. There are too many local shops, art galleries, lecture series, live music venues, farmer's markets and community theaters to list.
Here are some of the attractions that our guests have enjoyed over the years: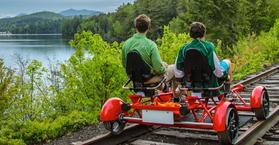 Whether you're on a romantic getaway, tracking down history, hanging from a cliff, or looking for a way to bond with your kids, Amy's guide will help you plan an Adirondack trip that's just right for you.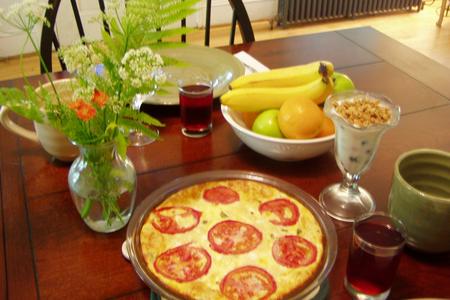 Awaken to the aroma of freshly brewed coffee and make your way to the dining room where you can select from a variety of hearty foods to fuel your day. Eat with other guests in our lovely dining room or at several other dining areas including the front porch (seasonal!)  Breakfast is available from 7-9 am. If you need a packed breakfast for an early departure, please select this option during booking.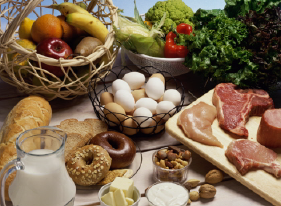 We eat well here in the Keene Valley area!! Within just a few minutes drive, you can enjoy a refreshing ice cream cone on a hot summer day, a burger and beer after a long hike or an elegant dinner for your birthday or anniversary.
NOTE: Reservations are ESSENTIAL at all restaurants during the busy season.
On summer Sundays, you'll want to visit the incredible Keene Farmer's Market located at Marcy Field for local produce, maple syrup, soap, coffee, artwork and more.
In Keene Valley (1.5 miles from us):
Noonmark Diner – A classic Keene Valley landmark, the diner offers everything from sandwiches to seafood, soft and hard ice cream, and their famous "Noonmark Pies."
Ausable Inn – Friendly bar/restaurant with a great family atmosphere. Dependably open year round, their entrees range from burgers and soup to steaks, seafood and chicken. Vegetarian entrees available too. The soups are amazing – especially the Hungarian Mushroom! Outdoor seating available in nice weather. Next door is a nice little Wine and Spirits shop if you want some wine to bring back to the inn.
Note: The Ausable Inn is closed on Mondays and Tuesdays.
On Route 9N (7 miles from us):
Baxter Mountain Tavern – Under new management, the tavern offers a nice variety of entrees with vegetarian options as well. In winter, enjoy the crackling fireplace near the bar. Outdoor seating in summer and a nice view from the windows. Near the Baxter Mountain hiking trail for a great hike/dinner combo.
Note: Baxter Mountain Tavern is closed on Mondays and Tuesdays.
In Keene (7 miles from us):
46 – 46 is a bistro-style, farm-to-table restaurant featuring local, sustainably sourced ingredients. In summer, the flowers blooming by their outdoor deck are reason enough to settle in for a relaxing dinner. Our guests not only enjoy the creative, "changing with the season" menu but have also raved about the friendliness of the staff.
Note: 46 is closed on Wednesdays and Thursdays.
Cedar Run Bakery – Sells coffee and baked goods as well as take-out lunch items and soups. There is no table service, but there are a few places to sit and have coffee or a sandwich. If you're staying in our Legacies room (with the kitchenette) you may enjoy their extensive selection of home made frozen "take and bake" items for dinners. They also have an extensive Wine and Spirits Shop.
MONDAY TUESDAY GRILL:
In August 2022, we opened the Monday Tuesday Grill at our sister property, the ADK Trail Inn, to meet a serious need for food on the two nights when most area restaurants are closed. The fresh, affordable food and the friendly vibe have caused the Grill to grow quickly into a favorite for locals and tourists alike. In summer, we serve flame-grilled burgers, BBQ chicken, and cookout-style sides. The winter menu includes gourmet grilled cheese sandwiches soups and home-cooked specials like lasagna and shepherd's pie. Open ONLY on Monday and Tuesday nights from 5-8pm, we offer indoor and outdoor seating as well as takeout. Note: the Monday Tuesday Grill is closed Wed-Sun!

COFFEE:
Keene Valley is excited to have our very own gourmet coffee shop. Old Mountain Coffee Company is located just two miles from the Snow Goose B&B. In addition to coffee, you can purchase delicious pastries and sandwiches. 
GROCERIES:
You can purchase basic groceries for packing lunches or fixing simple meals at the Valley Grocery (1 1/2 miles from us) or at Stewart's convenience store in Keene (7 miles from us). Two full grocery stores are available in Lake Placid. All of our guest rooms have bar size refrigerators for convenient storage of beverages and snacks and a communal microwave is located in the TV room. (Legacies room has a full kitchenette if you like to prepare your own food)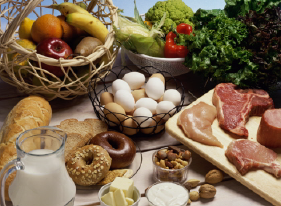 We also invite you to visit our sister property, the ADK Trail Inn, a charming 14-room inn located along the Ausable River between Keene and Upper Jay. All rooms have private baths/AC. Room rates include a packed breakfast and amazing coffee. Families and pets are welcome!
Visit www.adktrailinn.com or call 518-527-1155 for more information.